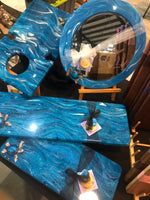 Make Shopping Easier !!!!!
 To make your shopping experience easier.... (This is optional)
1. Register your details for an account by selecting the person icon in the top right hand corner.
2. Select create account and fill in your details.
3. Follow the prompts, to finalise your details.
You will receive an email confirming your account activation.
So why do I need to activate an account ?
Activating an account will enable the following.
i. Faster Checkout.
ii. Access to Special Offers and Discounts when applicable.
iii. Easier Access to Afterpay.
(Afterpay is on the final screen on the checkout under payment options.)
NOTE: New Resin Workshops dates are now available for 2022.